Below you will find a brief description of all four books and a link to their table of contents.
CLICK HERE TO BUY AUTOGRAPHED BOOKS!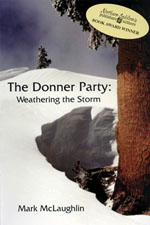 The Donner Party: Weathering the Storm
Judged as the Best Nonfiction Book in 2006 by the Northern California Publishers & Authors association, Weathering the Storm is the perfect book for the well-read Donner Party aficionado or the curious first timer. McLaughlin has written an accurate, entertaining and riveting account of the West's most infamous storm story. While most books written about the Donner Party emphasize the all-too-familiar topics of suffering, death and cannibalism, this one does not.
In his enjoyable and straightforward style, McLaughlin chronicles the dramatic events as they unfold, but also provides many details on the harsh winter weather conditions throughout much of California at that time, including Monterey and San Francisco bays, Sutter's Fort, Santa Barbara, as well as Donner Pass and the two survival camps east of the Sierra Crest. Based on extensive research and a weather analysis developed for the Society for Historical Archaeology Donner Party symposium held at Sacramento in January 2006, this book covers recent archaeology and forensic discoveries, tree ring climate reconstruction, American warship deck logs as well as an illustrated history of rare San Francisco snowstorms.
Not only is this book well-illustrated with photographs and maps obtained from historical archives, there are also many excellent unpublished pictures that depict winter weather conditions at Donner Lake, Alder Creek and Donner Pass. The final two chapters include fascinating and surprising information about the weather of 1847 and recently discovered information revealed by on-going archaeology at the Donner camps.
Read Weathering the Storm and feel first-hand how much courage, endurance, faith, and hope it took the Donner Party to survive that epic Sierra winter. Buy today direct from the publisher for only $19.95, which includes sales tax and free shipping!
Western Train Adventures: The Good, the Bad & the Ugly
In 2003, NCPA judges honored this book with the prestigious
Silver Award for its writing quality and excellent historical content.
These action-packed, true adventure stories vividly transport the reader to another time and place, an era when America's western experience was defined by the Iron Horse. Discover thrill, intrigue and romance in these exciting stories when:
A sharp-eyed woman and gutsy lawman bring down the gang who pulled off the West's first train heist.
A world famous author risks his life to be with the woman he dearly loves.
Heroic snowplow engineers barely survive a suicide run bravely clearing the rails.
Lawmen track down desperadoes scheming to rob the Wells Fargo money box and bring the thugs to justice.
… a time when charming narrow gauge railroads connected isolated communities, and Hollywood romance rode the rails. Characters and places come to life in these dramatic and well-illustrated train stories. Take home this unique collection of gripping tales and relive how railroads played a prominent role in the colorful history of the Wild West. This is a well illustrated, 216 page book for only $18.95 which includes sales tax and free shipping!
.

Endorsements for Western Train Adventures

"Western Train Adventures: The Good, the Bad & the Ugly by Mark McLaughlin is a superbly written and presented collection of railroading oriented, action-packed, true adventure stories showcasing the "Iron Horse" in the American West. Enhanced with historic photographs, Western Train Adventures is informative, entertaining and very strongly recommended reading for railroad history buffs of all ages!"
— Mid West Book Review


"In his outstanding book, Western Train Adventures, master storyteller Mark McLaughlin has woven the facts into a living, breathing fabric where characters come alive, leaving the reader spellbound."
Roger Titus — Railroad Historian and Conductor on the McCloud Railway

"Mark McLaughlin provides in this book several stories that combine adventure and history and a number of fascinating individuals. The Virginia & Truckee, the Lake Tahoe Railroad, and the Southern Pacific provide the stage for accounts of gold and silver mining, blizzards, train wrecks, robbers and romance. The reader will find lots of railroad history in addition to some really good storytelling."
P.E.P. — National Railroad History Society Bulletin

"You are about to go on an adventure...This is not only a book of history, it is a glorious escapade filled with the character and clickity-clack of the railroad and the men who helped to forge its destiny, for better or for worse. Enjoy!"
John Tyson — Nevada Historian and Locomotive Engineer

"Mark McLaughlin has written a compelling love story that brings alive Robert Louis Stevenson's 1879 railroad journey to reunite with his beloved Fanny Osbourne in California."
Ann Kindred — Associate Curator and Museum Archivist,
Stevenson Silverado Museum, St. Helena, California

Sierra Stories: True Tales of Tahoe Volume 1
Includes stories about stage coach holdups, the Pony Express and the first train robbery in the Far West. This perfect-bound paperback book contains a dozen stories with 14 illustrations, is 112 pages long and measures 6 by 9 inches. $12.95 which includes sales tax and free shipping!


"These stories are absolutely classic."
— Historian, William B. Berry, author of Lost Sierra

Sierra Stories: True Tales of Tahoe Volume 2
Features early women pioneers and their efforts to tame the West, as well as more daring stories about the greatest Indian battle before Custer and Mark Twain's misadventures at Tahoe. This perfect-bound paperback book contains ten stories with 17 illustrations, is 122 pages long and measures 6 by 9 inches. $12.95 which includes sales tax and free shipping!

"With diligent research and engaging writing, Mark brings these classic tales to life."
— Guy Louis Rocha, State Archivist
Nevada State Library & Archives, Carson City